CBD cream is a popular skin care product that contains hemp-derived cannabidiol (CBD) from the Cannabis sativa plant as its main active ingredient. Like all CBD products, topical creams are generally safe to apply and well-tolerated by humans. However, as with every CBD topical, it is important to test a small amount on a patch of skin before using it more extensively. Some people may experience some minor and temporary side effects. However, consumers can take comfort knowing that the side effects of CBD cream are extremely rare.
When it comes to CBD creams, the benefits far outweigh any potential side effects. To reduce the chances of these effects occurring, it's best to buy topical CBD products from reputable brands known to use natural ingredients and CBD from American hemp (like us at Cheef Botanicals!). But what is it about CBD creams that can result in sporadic and unwanted side effects? Let's find out.
Is CBD Cream Safe?
Yes, CBD cream is safe to apply to your skin. Generally speaking, CBD is well tolerated by the body and does not cause any serious side effects. Topicals, like CBD cream, are even less likely to result in side effects. However, that doesn't mean that they can't occur.
How Does CBD Cream Work?
CBD cream joins a long line of hemp-derived CBD products that can help to improve your general wellness. The benefits of CBD cream stem from cannabidiol, a naturally occurring cannabinoid that is safely extracted from hemp, a cannabis plant with high levels of the cannabinoid. When taking CBD products, ensure they're made from cannabidiol that has been safely extracted from hemp.
CBD interacts with the receptors of your endocannabinoid system (ECS). This internal network of cell signaling receptors helps mediate several key functions of everyday life, including sleep, mood, appetite, digestion, and mobility.
There are two types of cannabinoid receptors: the CB1 receptors of the central nervous system (CNS) and CB2 receptors of the peripheral nervous system (PNS). CBD interacts with these receptors to help optimize these and other processes to help bring stability to your life. When you apply CBD-infused topicals to your skin, the CBD provides localized relief by interacting with the CB1 and CB2 receptors in your skin.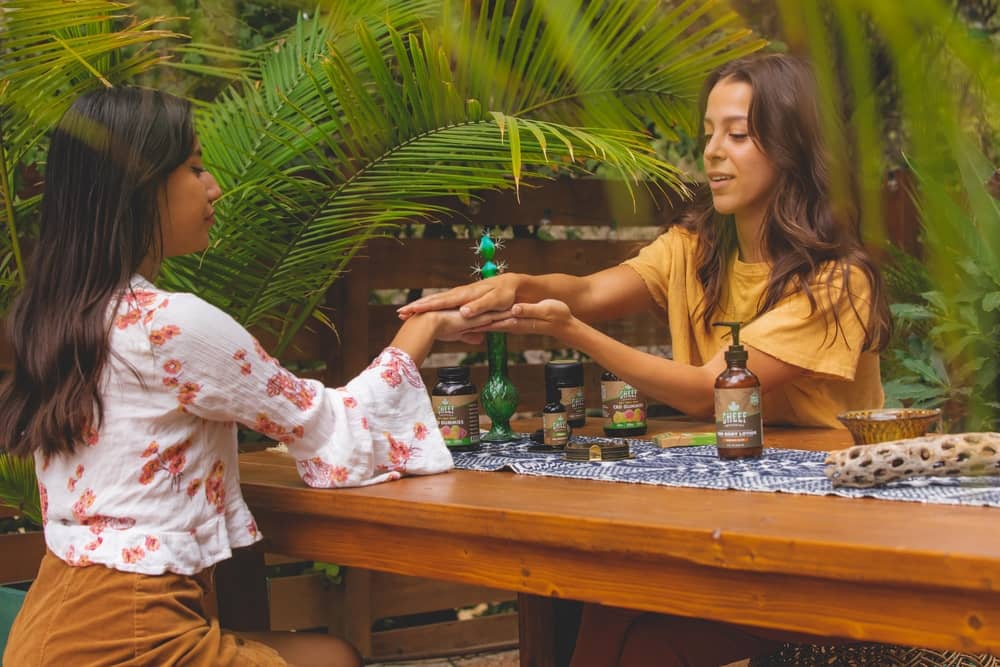 Are There Side Effects of CBD Cream?
CBD cream does not have any adverse effects and is generally well tolerated by the body. It's one of the safest and most effective products to treat localized discomfort and revitalize your skin. Unlike other CBD products that you consume either by ingestion or inhalation, CBD cream does not enter your body. Because topical CBD products are applied for external relief, whatever side effects that may occur are outside of the body and on the area of application.
The side effects of CBD topicals won't be from the CBD they contain but from an allergic reaction to other ingredients in the cream. Some of these effects include:
Skin irritation
Itching
Redness
Skin discoloration
Dry skin
Blistering of the skin
Rash
To avoid these side effects, it's important that you inspect the product package before applying it to your skin. You can also test a small amount of the cream on an inconspicuous area to see how it affects you before adding it to your daily regimen. It's also important that you get evaluated by a healthcare professional to determine if you have any allergies, health conditions, or are taking any prescription medications that may prevent you from using CBD products.
Benefits Of CBD Cream
CBD cream offers many benefits, which is why it's a hit with consumers. As we previously mentioned, CBD interacts with the CB1 and CB2 receptors of your skin to provide daily nourishment. In addition to the holistic properties of CBD, the many natural ingredients in CBD creams will also provide your essential outer layer with soothing effects and a radiant glow.
You'll also improve the look of your skin by keeping it moisturized and lubricated. This will help your skin stay elastic and limit fine lines and wrinkles. Although not visible to the naked eye, the thin layer of cream on your skin will help protect your skin from opportunistic bacteria and infections typical of dry and damaged skin.
Is CBD Cream The Same As CBD Lotion?
There is very little difference between CBD cream and CBD lotion. The only real difference between them is their consistency and oil to water ratio. CBD creams have a thicker, heavier consistency and contain more oil than water. On the other hand, CBD lotions contain more water than oil and have a thinner consistency, which is why they're easily spreadable.
Uses For CBD Cream
You can use CBD cream topically to receive relief from various skin conditions. However, it should never replace other medications you may be taking for your skin problems. CBD cream may also help ease discomfort in the area of application. For those wanting to maintain their skin and improve their skin health and appearance, CBD cream presents a holistic option that other types of creams can't provide.
Where To Get CBD Cream?
If you're looking for a high-quality CBD cream or topicals of similar value, then you should shop online with reputable brands like Cheef Botanicals! We offer a variety of CBD topicals that are perfect for a wide range of conditions.
Our selection of CBD topicals includes:
Body Lotion: This is a great alternative to CBD cream. Our CBD body lotion easily absorbs into your skin and comes in Cucumber Melon or Orange Bliss scents.
Relief Salve: A maximum strength topical that's perfect for deep moisturizing or athletes looking to recover after an intense workout. Use anywhere on the body for fast, effective relief!
Bath Bombs: Rejuvenate your skin with a nice, soothing bath while providing CBD benefits to your skin. Choose from Citrus Obsession, Lavender Awaken, Lemongrass Dream, and Tropical Oasis scents.
If you want to make your own topicals, you can add one of the following CBD products to your favorite cream:
CBD Oil: You can add CBD oil to your favorite topical and mix them to make CBD cream. It's perfect for mixing into just about every kind of topical product.
CBD Isolate: This powdery substance is one of the most popular CBD extracts sold online. Sprinkle this into moisturizing cream to make it into a CBD topical.
Why Choose Cheef?
There are many reasons to choose Cheef Botanicals for your CBD needs. First and foremost, we use the highest quality ingredients and American-grown hemp in our products. Our products also come with a Certificate of Analysis (COA), which are third-party lab tests that ensure the quality of our ingredients so you can be sure that you're getting the pure and potent product.
We also offer free shipping on orders and free membership services that can save you 25%-30% off every order. We're committed to providing the best possible products and services, and we're confident that you won't find a better CBD experience anywhere else. Thank you for choosing Cheef!
Final Thoughts – Side Effects of CBD Cream
CBD cream is a fantastic product that has a lot of benefits for your skin. However, like all products, it does have a few rare side effects. While most side effects are temporary, some may be more serious and a direct reaction to other ingredients within the cream and not the CBD. Thankfully, CBD cream is a generally safe product, and the side effects are usually mild and extremely rare.
If you are looking for safe and effective CBD topicals, we highly recommend you shop with us. At Cheef Botanicals, we make our lotions, salves, and topicals with natural ingredients of the highest quality. Don't hesitate to nourish your skin. Head to our shop and get some CBD topicals today!
Not sure which CBD product is right for you??? Take the quick quiz to find out!