We think it's pretty clear that we love everything cannabis at Cheef Botanicals! So naturally, we want you to get the best out of all your hemp products. One of the best ways to do this is by keeping your stash in cannabis storage containers. These can help protect and preserve your hemp products, organize them, and keep them out of reach from unwanted eyes and hands!
Though there are many cannabis storage options on the market, you may be wondering how to find the best storage container for your needs — whether you be a cannabis connoisseur, pet owner, or parent. Luckily, we're here to help! We've listed out our top-10 favorite storage containers so that you can find the best setup for all of your hemp-related needs.
Why Should I Invest in Cannabis Storage?
Though you can easily store your cannabis in the plastic containers or plastic bags they come in, this option isn't always the best for long-term safekeeping. When you invest in storage made with your cannabis in mind, you're helping keep your cannabis fresh and safe.
Great storage containers can help:
Hemp products last longer by maintaining freshness and lowering the risk of your cannabis degrading and losing potency. Light, humidity, temperature, and too much air can make cannabis lose potency. When you store cannabis carefully, you can better protect it from these factors.
Organize your cannabis products to help you keep track of what you have. Many of the best storage containers have unique and colorful designs, making it easy for you to stay organized. You can use different colors or sizes for different strains, to differentiate CBD from THC, to keep old and new products separate, and more!
Keep cannabis hidden away from children. While promising research shows that CBD can sometimes benefit children, cannabis products — especially fruity gummies — should be kept out of reach of kids.
Block odors from all your favorite flower products. Many people love the smell of cannabis, but some prefer their cannabis to be a little quieter, especially in shared spaces. Keeping your stash in a sealed container can help you with odor control.
Separate your stash from your pets' treats. Do you have every cannabis product under the sun? There's a good chance you want to keep your products separate from those for your pets. Storage systems make this easy!
Learn more on how to store your gummies here.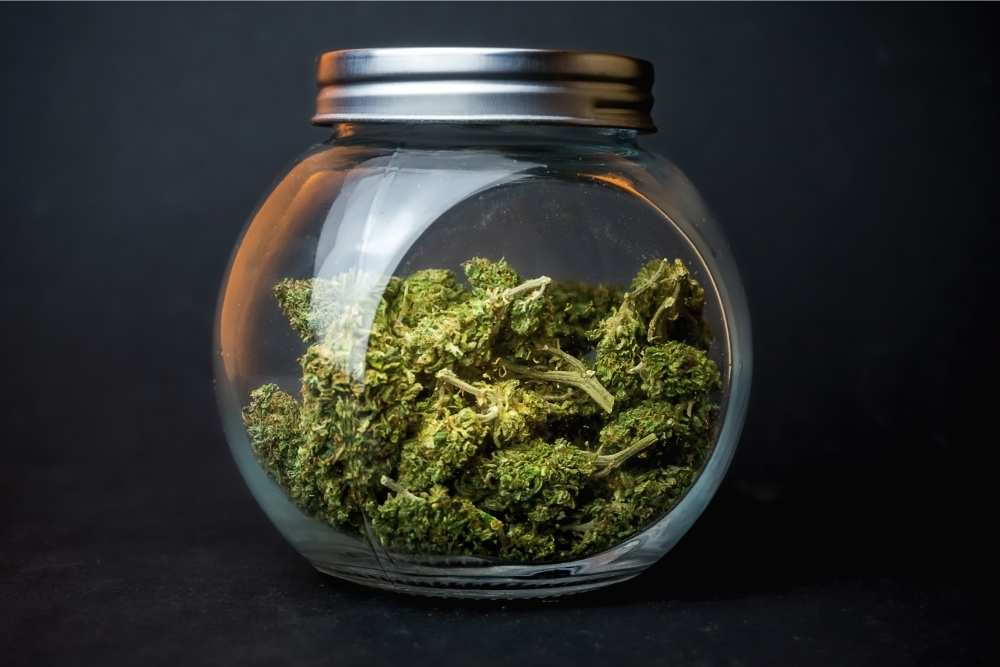 Our Top 11 Picks
Without further ado, here's our top list! We've listed these containers from cheapest to most expensive, so you can easily find the best storage solution for your budget. Along with price points, we've also highlighted each product's pros. Let's jump in and learn more about them together!
1. TightVac: PartyPac — $6 link
Pros: Durable plastic that won't melt, waterproof, floats, portable
Perfect for Storing: Individual gummies or capsules, pre-rolls, flower, vape replacement carts
This cute container is small but mighty! It's airtight and will protect your cannabis from all the elements — even water. Along with being waterproof, it also floats, making it the perfect accompaniment for days spent at the beach or by the pool.
2. Honeypuff: Aluminum Stash Jar — $7.99 link
Pros: Airtight, waterproof sealant ring, durable, portable
Perfect for Storing: Individual gummies or capsules, CBD flower
You can protect your buds in a slim, aluminum stash jar for only a dollar more than your standard mason jars. These jars are airtight, waterproof, and come in various colors, so you can easily find one that matches your style or color-code your entire stash. And since they're aluminum, you won't have to worry about them breaking easily.
They're also tiny and easy to travel with! Each one is about the size of a small pill container, so you can easily pack it in your purse, backpack, travel bag — even your pocket. They're also longer than they are wide, making them a great fit for holding pre-rolls, joints, or blunts.
3. Tightpac America: Tightvac — $11.99 link
Pros: Portable, NSF tested & certified, vacuum sealed
Perfect for Storing: Individual gummies or capsules, pre-rolls, joints, flower
As we mentioned earlier, too much oxygen exposure can degrade your cannabis, making it less potent as time passes. Luckily, vacuum-sealed containers exist! Tightvacs are food-grade and are especially good at keeping dry goods fresh. They're easy to use and open and close with the push of a button. Not only that, but these are recyclable too!
4. Firedog: Smell Proof Bag — $11.99 link
Pros: Easy-to-use velcro closure, durable, smell-proof, lifetime warranty
Perfect for Storing: Pre-rolls, joints, flower, vape pens, and carts
Jars and canisters aren't the only kinds of containers that can protect your stash — durable fabric bags are another great way to keep your goods safe! Fireproof bags are made of PU leather, tear and water-resistant, and are carbon-lined to help keep dank scents locked inside.
One of the best parts about these bags is that they have a velcro closure. This kind of closure makes them more accessible and easy to open for those who struggle with disabilities but is still firm enough to keep goods safe from pets and kids.
5. Canlock: Stash — $15.99-30 link
Pros: Creative designs, pressurized seal, durable borosilicate glass jars
Perfect for Storing: Individual gummies or capsules, flower
Interested in fashion and design? The Canlock Stash may be for you! These jars are simple, sleek, have an airtight lid, and come in many colors and designs. They also all come with Boveda humidity control packs, which are the same ones we include in our flower jars.
6. Tetra: Cache Jar — $29-39 link
Pros: Lightweight, silicone seal, opaque handblown glass
Perfect for Storing: Individual gummies or capsules, flower
If you're not as worried about durability and are looking for something stylish and unique, these handblown glass jars will make a perfect addition to your home. Even though they're made of glass, they're opaque, so they'll keep the light away from your nugs or gummies. They also feature a silicone seal lid, which will keep your cannabis super fresh.
7. The Crypt Canister — $40.04 link
Pros: Stainless steel, airtight, waterproof, humidity-controlled
Perfect for Storing: Flower, pre-rolls, individual gummies, or capsules
One of the best ways to help preserve your stash is by monitoring your buds' relative humidity and temperature exposure. Keeping an eye on these factors is much easier than you think, especially when you have a device that monitors it for you! The Crypt Canister has a built-in hygrometer in the lid to help you keep track of the humidity and temperature of your cannabis.
This canister also features a special holder that lets you hold up to four different strains within each jar while keeping them separate and preserving their freshness. It also locks closed with an airtight seal and will effectively keep water out.
8. Staze: Trio Vacuum Seal Jars — $44 link
Pros: Vacuum sealing, minimalist set, activated carbon filter for odor protection
Perfect for Storing: Flower, pre-rolls, individual gummies, or capsules
Looking to buy a container bundle instead of just one? The sleek Trio set by Staze comes with three matching, aesthetically-pleasing cannabis storage containers for all your preservation needs. These portable containers close with a hand-operated vacuum seal. This helps protect your stash from light, air, and temperature and humidity shifts.
9. Dankstop: Stainless Steel Storage Container — $54.98 link
Pros: Durable stainless steel, regulates humidity, airtight container seal
Perfect for Storing: Flower, pre-rolls, joints, blunts, individual CBD gummies or capsules
Sometimes bigger storage solutions are more convenient than smaller ones. Dankstop's stainless steel storage containers may be the right fit for you if you need a larger, more durable storage solution. These containers feature an airtight seal and can regulate humidity while protecting your stash from rougher, external elements. We think this option is great for those who love camping or have more active, outdoorsy lifestyles.
10. StashLogix: Smell Proof Bag with Combination Lock — $54-79 link
Pros: Multi-stage odor control system, locking zippers, customizable interior
Perfect for Storing: Jars of flower, gummies or capsules, isolate, pre-rolls and joints, pieces, tools, rolling papers, and more
It can be tricky to figure out the easiest way to travel with cannabis, let alone traveling with all your pieces and smoke gear. Luckily, that's a lot easier with the StashLogix storage bag! This smell-proof bag comes in three different sizes. It features padded compartments so you can store any container, piece, product, or tool that'll fit inside.
The bag is soft on the outside but contains a durable metal liner, a rubber sealing system, and carbon fiber fabric to keep scents sealed away. It even has locking zippers and a digital combination lock to keep things safe and secure and comes with a lifetime warranty.
11. Stori: Smart Storage — $40-189 link
Pros: Beautiful and multi-functional, color-coded organization, pet and child-resistant
Perfect for Storing: Flower, pre-rolls, gummies, or capsules
If you're the kind of person who loves to present their alcohol on a bar cart, you'll love Stori's Smart Storage for cannabis. This storage system is minimalist, color-coded, and pleasing to the eye. The case looks stunning open or closed, and its lid functions as a rolling tray when not attached.
The entire system is aluminum and contains jars and airtight tubes. Each jar's lid contains a humidity pack to help maintain proper humidity levels. The tube lids also feature holders to help suspend pre-rolls in place, so they'll maintain their shape.
Stori even has a free app where you can track what you're storing, how each strain or product affects you, track products, and more. The app also hosts weekly contests where you can win a Stori kit of your own.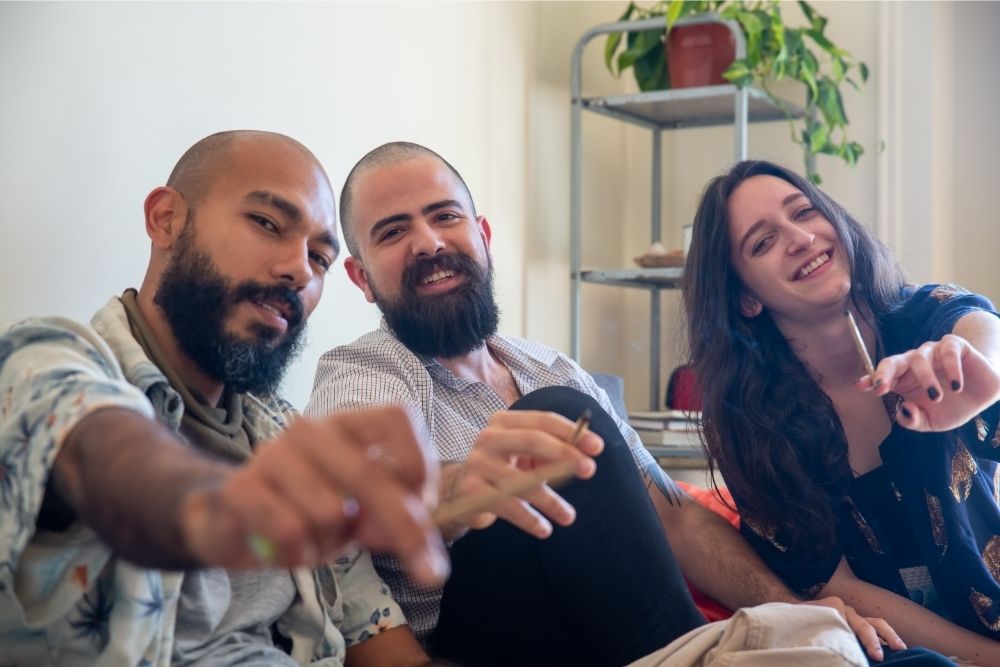 Honorable Mentions: Containers for CBD Pet Treats
As pet owners ourselves, we know it's not always easy to keep our furry friends from getting into stuff. Protective, durable storage is especially important in ensuring your pets don't accidentally eat too much of their favorite CBD pet products.
Though these containers didn't make it into our top picks, we wanted to give them a special shout-out! They're still great at protecting and preserving CBD treats, especially for how cost-effective they all are:
Reusable Sistema Containers — $4.99+

Pros: BPA-free, food-safe materials. Wide range of choices, sizes, and styles.

oxo Pop Storage Containers — $7.99+

Pros: Space-efficient (stackable), airtight seal with the push of a button.

mDesign Plastic Pet Storage Canisters — $20-35.99

Pros: BPA and chlorine-free, shatter-resistant. Looks like glass but is made of durable plastic.
TLDR: Looking for the best cannabis storage container for your lifestyle? We've curated a list of our top 10 favorites. From stainless steel and aluminum to color-coded durable glass, this list has something for everyone! For your convenience, we've listed containers by affordability, from a lower price point to higher price points.